Spook Hill is a long promoted gravity-defying hill in Lake Wales, Florida where you can park your car at the bottom and it will roll up hill. It has been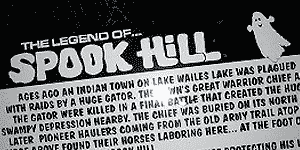 mentioned in all kinds of publications including a story that appeared in the Wall Street Journal. It is such a popular place for curiosity seekers that the City of Lake Wales has put up little brown direction signs all over town so you can find the mysterious hill. However, beware that local pranksters often turn these signs so they point in the opposite direction. As We found out, it only takes one sign being switched to send you off into oblivion. We returned to my starting point several times before We figured out that something was wrong. By accident We came up on a lone directional sign on the opposite side of town and from that point followed the series of signs until We came to Spook Hill Elementary School and just ahead We saw the hill. Once you get to this point you cannot miss the Spook Hill sign erected by the City that explains the history of the hill. The sign also explains how to experience Spook Hill by parking your car on the white line that's painted on the street, shifting to neutral and letting her roll up the hill.
We followed the instructions and within a second my car was gliding slowly up hill, or at least that's what it seemed to be doing. On weekends there can be as many as fifteen to twenty cars at one time waiting to experience the crazy gravity.